05 Oct

Meeting virtually with clients as a financial adviser

With a lot of adviser/client meetings being virtual, here are our top tips for meeting virtually with clients as a financial adviser.
Clients still need to hear from their advisers, and whether by phone or videoconference, this isn't as difficult as originally thought.
We've all been there: embracing something new that maybe doesn't come naturally. However, as VoiceNotes specialises in financial client meeting notes, we feel we have some useful insights for meeting online with clients as a financial adviser. Seeing yourself 'live' on Zoom, Teams or Google Meets, etc can be overwhelming, even to someone who is not a complete technophobe but isn't quite a techno-whizz. Let's face it – that's a lot of us – and as the ability to conduct face-to-face meetings disappeared, quite literally overnight, back in March, the videoconference – an already well-established form of technological communication – became something of a Holy Grail for financial advisers and asset managers.
Many were able to pick up the baton and run with it, as certainly in the last decade, the office has become an increasingly 'high-tech' environment, as much as advisers and investment managers thrive on fundamental face-to-face contact with their clients and fellow professionals. Nonetheless, Ellie Duncan of FT Adviser quotes a financial adviser at Foster Denovo as saying that videoconferencing was a tool that was by no means underused pre-COVID-19.
The stumbling block, or barrier to business, for many firms during this time has been in accepting the legitimacy of the virtual meeting in comparison to an in-person one when it is a case of a virtual meeting or no meeting at all, especially when in the financial world, regulation, data protection and data certification are amongst the most significant of pillars to uphold. In our experience at VoiceNotes, our clients were finding they had prospective business put on hold at the start of the first lockdown from both clients and associates, which was a result of a brutal combination of the markets crashing and the aforementioned halt to physical interaction of any kind. We hope our tips for meeting virtually with clients as a financial adviser will help you a little.
What can you accomplish in a face-to-face meeting that you can't in a virtual meeting?  
The short answer is that this will differ, depending on what your job is. For our sales clients, for example – those whose day-to-day activity involves driving around the country and, well, meeting people, this remote working experience has resulted in a significant reduction in business for them. These workers thrive on the physical engagement with prospects and clients alike to drive their sales, particularly new sales. For many, a lack of interaction and feeling like they are not meeting someone new properly is the biggest obstacle in their way. Meetings in the virtual arena, for them, simply can't be made as memorable. Attention spans can be weaker, or shorter, and distractions are aplenty. Therefore, by extension, a salesperson's product is less memorable. They can't use their skills as easily to pull their prospective buyer back 'into the moment'.
Conversely, advisers and asset managers, many of whom service existing clients as much as, if not more than, new clients, have been able to maintain largely uninterrupted service levels with the help of programs like Microsoft Teams, Zoom, Skype, Google Meets and others. When there is an existing relationship, the dynamic of a virtual meeting changes immeasurably. Depending on the depth and standing of a relationship, it can even boil down to client and adviser discovering this new method of communication like old friends discovering WhatsApp video calling in its infancy in a, 'Well, this is new and a little bit snazzy, isn't it?' fashion. In direct contrast to sales meetings, these types of meetings – formal review meetings or less formal catch-ups – are a lot more personal and don't necessitate extensive travel around the country (though, of course, pre-COVID, this was all part of the service that advisers offered to clients); therefore, conducting them by remote means has not presented anything like the number problems it has for salespeople. There will have been, of course, many a time when advisers will have had to coax those less tech-savvy clients away from the telephone to the screen and conduct an exercise in teaching the basics of videoconferencing – something they have, by default, learnt the ins and outs of as part of working day in, day out in an environment where technology is woven into the fabric of their operations – even if it's not something they have had a vast experience of themselves in pre-pandemic working life. In these instances, this learning curve – for both adviser and client alike – adds a new dynamic to the relationship and, in all likelihood, positively reinforces the trust in said relationship, as the adviser is actively demonstrating a willingness to remain as engaged as possible and going what might be considered 'above and beyond' for their client.
An interesting trend that we have noticed in the course of our day-to-day work is that our clients' clients who fall into this category – who are more 'old school', you might say – are the clients with whom advisers seemed to be re-engaging first in a face-to-face environment, i.e. at socially-distanced meetings, prior to 'Lockdown 2'. These typically tend to be older clients, as you might expect, and they were thus the driving force behind a return to a semblance of normality, to the way things were pre-March, and will continue to be post-Lockdown 2. Nonetheless, for every instance like this, there is undoubtedly another client who is, for the moment at least, enjoying the ease and convenience of the virtual meeting as much as the adviser. How to do adviser client meetings virtually, for all types of clients, is the key these days.
Are clients and advisers spending more time in meetings?  
With the lack of a commute eating up a good two hours or more of advisers' time every day, one would imagine that meetings might be longer or more frequent. One trend that has emerged in this shift from physical to virtual meetings is that whilst individual meetings aren't necessarily longer, the time spent in meetings during a working day is longer. In a nutshell, advisers are conducting more meetings. In the same article, Ellie Duncan quotes Derrick Dunne of Beaufort Financial as confirming the same, saying that advisers are, 'able to deal with far more clients now that they have moved to video meetings and are saving time on travel', which goes to show that for those companies who were already equipped to be 'mobile' or remote – and as mentioned earlier, thanks to advancements in technology, this is true of many firms in 2020 – many advantages have come from these most disadvantageous of circumstances.
Moreover, in these uncertain times, many advisers have been faced with the prospect of using meeting time (sometimes a lot) to reassure clients, answering troubled questions or fulfilling advice where circumstances have perhaps changed or, at best, become unpredictable. At VoiceNotes, we get to see this very 'human' side to the adviser/client relationship, as the pandemic is something that is profoundly affecting all of us in some way, shape or form. This commonality between both parties, it could be argued, has a partly neutralising effect on the negative sentiment of this year. We have certainly seen an increase in correspondence between clients and advisers in particular amongst our clientele, which typifies this support mechanism-type behaviour we feel compelled towards at times like this.  
Enriching working practices
The way financial advisers and asset managers have gone about their work has changed – possibly not irrevocably, but certainly significantly – and if there is one thing people can do inherently well, it's learn to adapt quickly: thrive to survive. The world was not prepared for COVID-19, but it has grabbed the bull by the proverbial horns whilst being charged at, and the financial industry is most definitely not alone on this bumpy ride. How to do adviser/client meetings virtually is more important than ever now, and tips for meeting virtually with clients as a financial adviser, from financial advisers themselves, will drive this continued success. 
Technology was already moving at a phenomenal pace, and future developments in healthcare, education, information security, communication and much, much more will only serve to aid our preparations for future pandemics like this. We have the time for that now – a luxury we did not have first time around.  
Template for client meeting agendas
The meeting template we would recommend for agendas is as follows:
Purpose of the meeting.
Preparation needed before the meeting.
Agenda breakdown with time estimates.
Expected outcomes from the meeting.


Template for client meeting minutes
We feel that for more general meetings, the following is an ideal template for minutes:
Identity of the attendees.
Date and time of the meeting.
Location of the meeting.
Initiator of the meeting.
Agenda item summary, followed by minutes relating to that item, next steps recorded, with an execution date and the person responsible for each step.
AOB.
Next meeting date set.


The FCA have laid out what the minimum information is that should be captured under the EU rules to meet MiFID II and SM&CR meetings:
Identity of the attendees.
Date and time of the meeting.
Location of the meeting.
Initiator of the meeting.
Relevant information about the client order, including the price, volume, type of order and when it shall be transmitted or executed.
Do you have any tips for meeting virtually with clients as a financial adviser?
If so, we'd love to hear them and quote you in our article.
Here are some further articles you may be interested in:
Tips for recording board meetings 
Fintech, hedge funds and online meetings
For details on how to capture minutes from online meetings for regulatory purposes with VoiceNotes.
'From Regulation To Recession: The storm of 2018-2020 for financial services
For testimonials from firms who use VoiceNotes transcription services.
For transcribing Zoom meetings.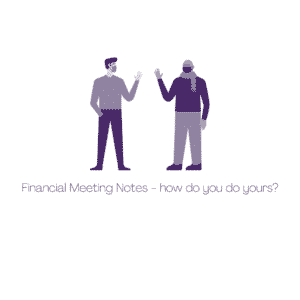 Please get in touch with any questions or your own tips for meeting virtually with clients as a financial adviser or to request a free trial of our service: info@voicenotes.co.uk / 0207 117 0066 / online form