02 Aug

Our LinkedIn Proofreading Service is proving very popular!
Using a LinkedIn proofreading service will ensure you look and 'sound' professional.
One written misstep could repel potential job and business opportunities
The generation-spanning grip of social media's influence on our daily interactions shows no signs of loosening. In the working community, while we are perhaps less likely to be lured by the attraction of Snapchat animal filters (well, you'd hope), the pervasive presence of business networking sites such as LinkedIn – affording us a platform for promotion of our experience and expertise to a global audience within a couple of clicks – make the portrayal of our (genuine) best selves no less desirable.  Every one of us now has the capacity, literally at our fingertips, to be our own agent and publicist, though this is arguably a mixed blessing when one written misstep could repel multiple potential contacts and business opportunities without our ever being aware. That's where our LinkedIn proofreading service comes in!
For over a decade, we have been providing audio transcription, proofreading and copy-editing services, VoiceNotes has been acutely aware that the old adage 'all publicity is good publicity' is far from the case, if what you are publicising is grammatically-flawed and/or unengaging written content, reflecting badly upon its author.  To that end we have made it our mission since inception to provide that crucial degree of accuracy and polish to companies' meeting notes, written communications, websites and brochures.
Since 2018 we have additionally been helping our clients improve their social media presence by providing a proofread LinkedIn profile to create or enhance their LinkedIn profile summaries. 
Attract employers with a professional LinkedIn profile
Using a proofreading and copy-editing service to 'look your best' is really worth the time and money. If you want to save costs then find a friend to read through your profile. Proofreading isn't as expensive as audio transcription so write down in your words first rather than dictate an audio file to save some money.
What our LinkedIn proofreading service costs
On an average profile, we charge from £10 + vat.
How it works
Just send a link to your LinkedIn profile page to us at info@voicenotes.co.uk and we will confirm the price. Then, if you'd like to go ahead, we'll return a Word version with all suggested amendments and re-writes clearly marked up, both to show you what we can do and to help you ensure that your LinkedIn profile is attracting peer attention – for all the right reasons!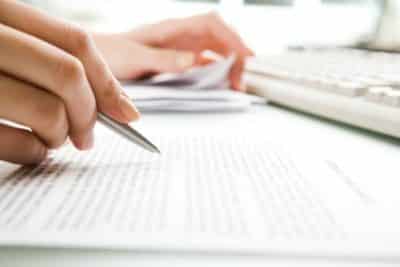 Here are some further articles you may be interested in:
How our Proofreading and Copy-Editing service works
Other people and companies who use VoiceNotes
Please get in touch with any questions or to request a free trial of our service: info@voicenotes.co.uk / 0207 117 0066 / online form.